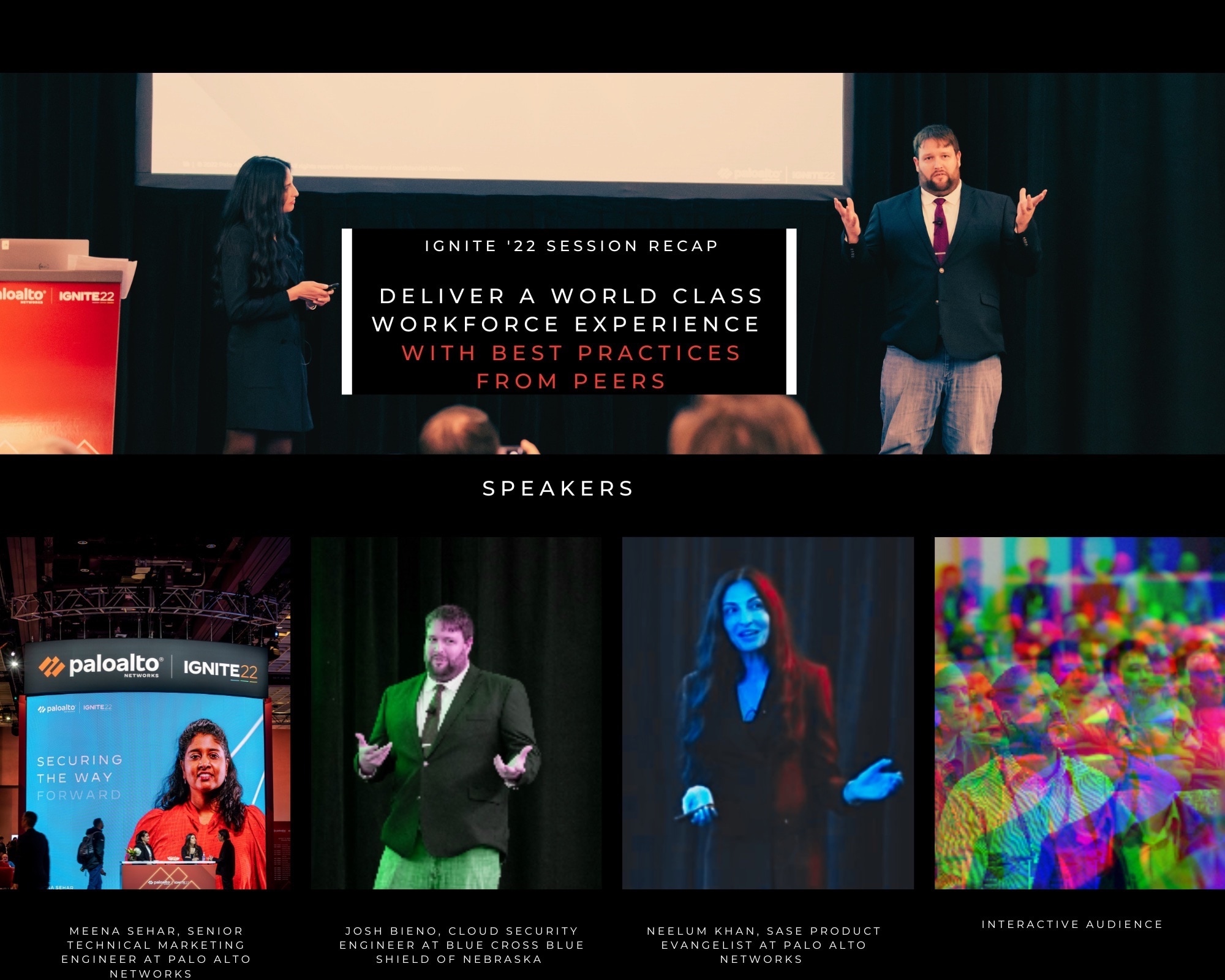 We love our customers, and this was displayed at our annual user conference Ignite '22 in Las Vegas last month. We showcased customers in keynotes and breakout sessions, and we even rocked out with them at our customer appreciation party at Top Golf.
As the product evangelist for Autonomous Digital Experience Management (ADEM), our ADEM customers are understandably my favorite. I was fortunate to have one of them, Blue Cross Blue Shield of Nebraska, present with me during our session entitled "Deliver a World-Class Workforce Experience with Best Practices from Peers." Here's a look at the top three highlights from that session.
1. ADEM Integration with Zoom
While Josh Bieno, cloud security engineer at Blue Cross Blue Shield of Nebraska, was the star of this session, I did kick it off with a little background on how organizations benefit when they use ADEM, built into Prisma SASE, to empower exceptional digital experiences and increase productivity.
Integrated with Prisma Access, and Prisma SD-WAN, ADEM provides rich multi-domain analysis across endpoint devices, synthetic tests, and real user traffic to help IT teams uncover and resolve experience issues fast, without having to install any new software or hardware. Many customers using ADEM have returned hours of productivity to users and IT, improved first-level call resolutions, and reduced ticket volume.
In the session, I showcased ADEM's new integration with Zoom. With the new, first-of-its-kind joint solution, ADEM correlates real user meeting quality data from Zoom's Quality of Service Subscription (QSS) with device health, Wi-Fi, and network and application performance insights to identify what's impacting meeting quality.
I shared a demo illustrating how ADEM enables administrators to quickly identify a root cause—whether it was a weak Wi-Fi signal, high ISP latency, problems with the user's device, or something else—all from a single dashboard.
Our joint Zoom and ADEM customers were excited about the innovation bringing more visibility, faster troubleshooting, and better meetings. Who doesn't want that?
2. Customer Shares Autonomous DEM Success
After the demo, it was time for Josh Bieno to share his first-hand experience and talk about why Blue Cross Blue Shield of Nebraska chose ADEM.
"During the pandemic, not only did we see the number of virtual meetings held across the company increase, but we also saw more tickets from users experiencing poor application performance," said Bieno. "Administrators would spend hours on each ticket. We didn't have detailed network path insights to identify the sources of packet loss or latency, or user device diagnostics to identify if CPU, memory, or Wi-Fi strength could impact a user's experience."
They needed a better way. So after successfully implementing Prisma Access to securely connect their workforce, Bieno's team activated the ADEM service within Prisma Access to accelerate troubleshooting for users experiencing challenges connecting to applications or resources. Rolling out ADEM was fast and easy with "just a click of a button."
Bieno explained that, as a cloud security engineer, his top priorities are security-focused. So how does user experience management fit in? With ADEM, his team spends less time troubleshooting issues, and more time on strategic projects and priorities.
"With ADEM I've taken the knowledge out of my hands and armed our front-line staff, help desk, support centers, and—now with ADEM's self-serve capabilities—even our users themselves with the ability to troubleshoot issues."
3. Immediate Results and Business Value with Autonomous DEM
Bieno shared even more results during the second half of the session. He described how ADEM shines a light on what's impacting experiences across Blue Cross Blue Shield of Nebraska before anything diminishes productivity.
"Today, if a user calls in about connection issues, we go to the ADEM dashboard, locate the user, and look at the insights," Bieno explained. "We can pinpoint exactly where the issue is and resolve it—whether it's with their Wi-Fi, ISP, device, or something else."
ADEM cuts the time needed to diagnose the issue from hours to a few minutes. Using ADEM has helped them:
shorten troubleshooting user experience issues from hours to minutes.
empower first-line service desk teams to resolve network performance issues without escalating to costly tier 2 and 3 support teams, reducing the number of ticket escalations.
provide assurance and objective data for a conversation with management, vendors, and partners on improvement areas to help triage and accelerate remediation.
proactively prevent remote employee downtime and ensure productivity for users, no matter where they are located.
Top 3 Customer Tips for Autonomous DEM Success
And finally, before opening it up to questions from the live audience, Bieno shared three tips for getting started with ADEM:
Have an understanding of your network topology. Quickly identify key infrastructure pieces and the part they play in the employee experience.
Roll out ADEM to a subset of users; identify key applications and the key users that need to access them.
After piloting with a user subset, share ADEM broadly across the organization. Get insights into the hands of those who need them including service desk analysts, application teams, network administrators, and security teams.
Catch Ignite Sessions on Demand
There were many great sessions at Ignite '22 this year. If you missed them, don't worry — you can register online and watch many of them from the comfort of your home. To learn more about ADEM, visit our webpage.
We can't wait to see you all again at Ignite '23!